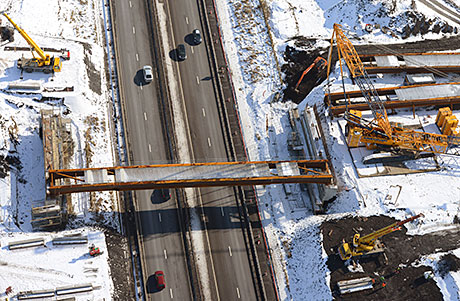 CONTRACTORS have been working the night shift on bridge works that form part of the first entirely privately-funded motorway junction in Scotland.
Balfour Beatty lifted the main bridge beams into place for the new Heartlands junction being constructed for Ecosse Regeneration between junctions 4 and 5 on the M8. The lifts were completed over two weekend night-time motorway closures, despite being hampered by severe weather conditions during the first weekend.
The 50-metre long, single-span structure forms part of a new grade-separated junction that will provide the main access to Heartlands, a £650m business, retail and residential development.
A 600-tonne crawler crane with 250 tonnes of superlift ballast and working to a radius of 40 metres was used to lift the three pairs of beams into place. The bridge incorporates precast copes with a permanent falsework soffit to reduce the need for temporary works support during deck construction. The six steel-plate girder beams are manufactured from weathered steel to reduce maintenance requirements.