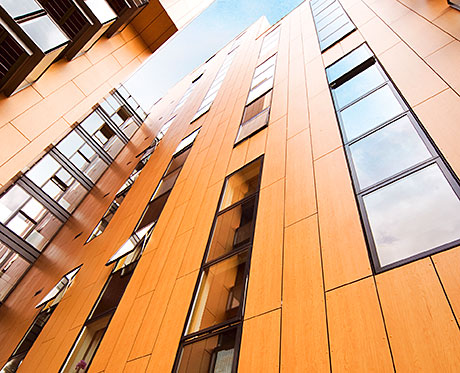 THE safety of Rockpanel cladding boards has been improved with the launch of products manufactured to the new FS-Xtra grade that complies with European fire classification level A2-s1, d0.
The boards become available in all Rockpanel designs from this month and, according to a spokesman: "Façade boards with such a broad design range were, until now, unavailable on the European market in a non-combustible grade."
Cladding panels have previously been available in Durable grade for standard cladding applications on façades and roof edges, and Xtreme grade for areas where greater strength is required, for example to withstand higher wind loadings or impact resistance. The company said the addition of the FS-Xtra' grade will give specifiers "unrestricted design freedom" for any application and façade area.
Colours and designs available in the new non-combustible grade are the Rockclad range, the Chameleon products with crystal-effect coating, and the Woods and Metallics designs. To comply with the European Fire Classification the boards should be fastened mechanically to an aluminium substructure.
The cladding boards are said to combine the benefits of stone and wood: as weather-resistant as stone, they can be easily processed on building sites with standard tools just like wood. They can be curved and shaped on site and because of the evenly-coloured surfaces, can be installed irrespective of direction.
They have achieved the highest scores from the Building Research Establishment.
Image – The cladding boards are now available in a higher grade to meet European classification.