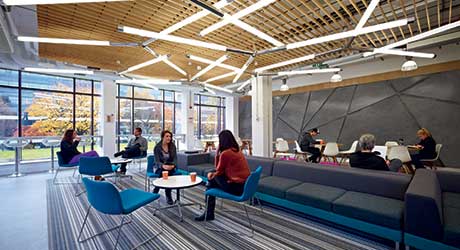 Architecture practice Sheppard Robson has completed a £14m remodelling of two university buildings in Glasgow city centre.
Strathclyde University's Lord Hope and Curran buildings were updated for a new faculty of humanities and social sciences and form part of a wider campus development plan.
James Dick, head of Sheppard Robson's Scottish office, said: "This project has delivered high specification office, learning and teaching accommodation, supplemented by attendant support and specialist teaching facilities.
"Office and teaching spaces have been designed in line with the university's space planning policy. Having analysed the way the occupants of the buildings work on a daily basis, we have remodelled the buildings to provide a flexibly divided floor plate that can accommodate future change that is more spatially efficient."
Each floor now has a large open plan work space around the perimeter for daylight and ventilation, core space, meeting rooms and break-out hubs.