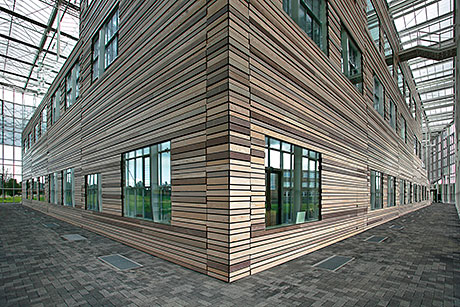 A new open structure façade system made its debut at a recent architectural event.
The UK launch by Hunter Douglas at the Architect@Work followed the installation of the system at the new CAH University of Applied Science in Dronten, Holland. A total of 2,500 sq. metres was used at the agricultural college, designed by BDG Architects.
Wooden façades have been rediscovered as a contemporary architecture approach in recent years and the Hunter Douglas system consists of solid linear wood panels, which are applied as open joint structure in a ventilated façade. The panels have a concealed demountable fixing to an aluminium substructure that allows easy replacement and maintenance.
Key features include a multi-functional lightweight substructure, multiple options for panel widths, thicknesses and lengths, and horizontal and vertical mounting. Panels can be finished in sawn or rough sawn surfaces and are also available as exterior soffit ceiling.
A variety of durable wood has been selected for the system, which can be treated with transparent or opaque coatings. In addition, the wood is treated with fire-retardant impregnation that allows a proper fire rating to be obtained for the use in façades.
As the various wood species used behave differently and react to local weather and other conditions, specialist advisors from Hunter Douglas work with architects and specifiers to ensure the right type is used. For the CAH University project three species were used – American Ash, Cambara, Merbau – with five different dimensions of panel. Typically, species such as WRC or Siberian Larch are selected for exposed external elevations.
Image – The system is designed to exploit the growing potential for wooden façades.