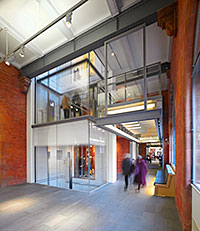 AN art gallery and a community centre have emerged as winners of the campaign to find Scotland's best eco-friendly buildings.
The Low Carbon Building Awards recognise buildings that have low carbon and sustainable design principles and are presented in two categories, new build and refurbished. The Big Shed in Aberfeldy, an eco-community centre submitted by Ecological Architecture, took the new build prize while Page \ Park Architects' work at the Scottish National Portrait Gallery in Edinburgh took first place in the refurb category. The Noreen and Kenneth Murray Library at Edinburgh University submitted by Austin-Smith:Lord was a highly commended finalist in the new build category.
The awards are sponsored by the Carbon Trust Scotland and architecture magazine Urban Realm. Paul Wedgwood, the trust's manager, said: "Our two winning buildings and highly commended finalist not only embody low carbon design principles but also deliver reduced energy demand and emissions, sustainability and a high quality of occupant experience.
"Once again, the judging panel was greatly impressed across all the 2013 entries with the effort and energy efficient processes that had been put in place. Every entry received showed great innovation and was able to demonstrate their commitment to creating a low carbon environment for the occupants.
"However, The Big Shed, the Scottish National Portrait Gallery and the Noreen and Kenneth Murray Library all displayed fantastic results that should be held up as exemplary case studies of best practice to show how a building can become more energy efficient, benefitting both the environment and the organisations' bottom line."
Image – Page/Park was a winner for its work at the Portrait Gallery.