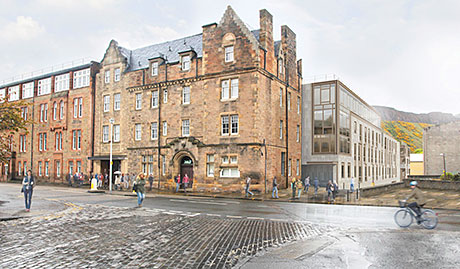 GRAHAM Construction has started work on its £14.5m contract to turn an historic Edinburgh building into student accommodation.
Mace Real Estate is behind the scheme to create more than 300 apartments on the site of the former Deaconess House hospital. Architect is The Kalyvides Partnership.
Deaconess House opened as a hospital in 1894 and ancillary buildings including nurses' accommodation were added to the original structure over the years until its closure as a hospital in 1990. More recently, the building has been used as office accommodation.
The original Deaconess House is being retained and refurbished and demolition work has already taken place to clear the site of the redundant outbuildings. Graham expects to be on site for 65 weeks.
Three new blocks will be created to the rear and grouped around a central courtyard that will include an amphitheatre and landscaped areas. The new blocks will rise to four or five storeys and will contain 315 bedrooms ranging from studios to six-bedroom units.
Mace Real Estate has signed an agreement with Edinburgh University which will take over the complex when construction work is completed.
Paul McBurney, contracts manager at Graham, said: "While Deaconess House isn't listed, we are treating it as a listed building and will be taking every care to ensure this property is returned to its former glory. This will be an interesting construction challenge as we seek to integrate the old with the new and create something which will complement the surrounding buildings in this historic quarter of Edinburgh."
Materials will include natural stone and powder-coated aluminium panels on the new build elements.
Elsewhere, the contractor has created 12 apprenticeship jobs as part of its work to regenerate a Dundee housing estate.
Sanctuary Scotland Housing Association last year awarded Graham a £22.7m contract for 269 homes on four sites and the company offered apprenticeships in joinery, brick-laying and plumbing. Four apprentices are helping build 60 houses at the Ardler estate.
Bricklayer Dean Elder was two years into an apprenticeship with WH Brown Construction when his employer went out of business last September.
Image – The main building will be retained and refurbished and new accommodation built to the rear.