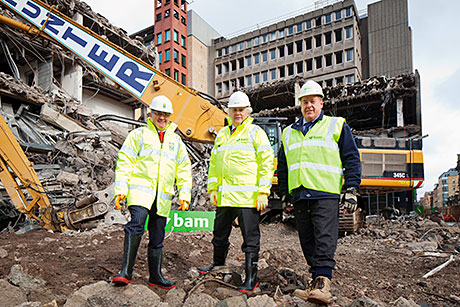 DEMOLITION has started to clear the way for the £70m Glasgow complex that will be the biggest 'live' office project outside London.
The 1960s' former bank headquarters in Queen Street is being developed and built by BAM with the help of a £9.6m loan from the Scottish Government and the European Regional Development Fund. BAM is investing £40.4m.
Council leader Gordon Mathieson donned a hard hat to inspect the site and officially launch demolition works at the office building, which is opposite the Gallery of Modern Art.
They helped with the removal of the final concrete panels from the outside of the building to enable the controlled demolition of the former bank, which will be replaced with a sleek, contemporary building able to accommodate up to 1,500 office workers.
Controlled demolition is being undertaken by BAM Construction with foundations expected to be laid in August. When complete in summer 2015, the eight-storey structure will offer 143,000 sq. ft. of Grade A office accommodation and 20,000 sq. ft. of retail space.
John Burke, executive director of BAM Construct, said: "As someone who works in Glasgow I have walked past this building countless times and it is amazingly satisfying to see the final concrete panels being removed and to know that building work will soon be starting to transform this unappealing building into something our city can really be proud of.
"This is the largest office development to be built outside London and it is very exciting to be involved in delivering this project, which will have big economic benefits for the city during the construction phase."
Design is by architect Cooper Cromar.
Image – Going, going: City council leader Gordon Matheson (left) with John Burke, executive director of BAM Construct, and Martin Cooper, construction director at BAM Construction.