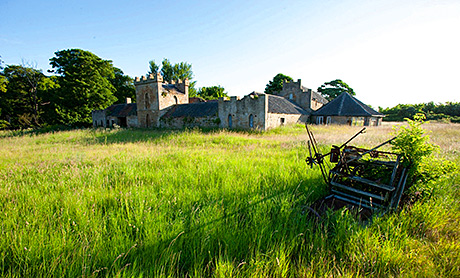 CONSTRUCTION of a new whisky distillery and visitor centre in Fife is expected to begin in April with the first spirit flowing within a year. And building work could get under way at the end of the year on a distillery in the Hebrides.
The Kingsbarns Distillery will be erected six miles from St Andrews at the site of a listed building and close to the Kingsbarns golf course. The project is the brainchild of former caddie Doug Clement, who is now a director with The Kingsbarns Company of Distillers, a new company set up by independent bottler and whisky producer Wemyss Malts. Wemyss is investing £3m to the project, which is also backed by a £670,000 Scottish Government grant.
Built on land leased from Sir Peter Erskine of the Cambo Estate, the new structure will see the transformation of the historic East Newhall Farm steading.
In the Hebrides, the Scottish Government has granted £1.9m for The Isle of Harris Distillery at Tarbert.
Images – The development will breathe new life into a historic steading.