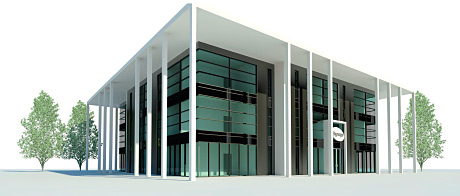 A developer has confirmed plans are being taken forward for a serviced office facility at its £100m business park in Aberdeen.
The 25,000ft complex is the fourth major development committed to the ABZ business park, joining two airport hotels, a new HQ for a subsea technology company, and a warehouse and office facility which is nearing completion.
ABZ Development, the family firm behind the business park adjacent to Aberdeen Airport, is taking the serviced office project forward alongside Business Homes Eco Villages and specialist operator i2 Serviced Offices, which has a portfolio covering all of the UK's major cities.
Around 750,000 sq. ft. of commercial, industrial and hotel development land is being built to tackle a significant shortfall at a time of increasing activity in the energy sector.
Over-all investment in ABZ is expected to be in the region of £100m for the construction phase alone.
Director Paul Stevenson said: "Activity at ABZ is really gathering momentum. We have already seen significant investment commitment across the sectors, from energy to leisure, as well as our own activity in speculatively building a warehouse and office facility."
Proposals have already been confirmed which would see ABZ's footprint extended with a second phase of development, worth a further £30m and covering an additional 16 acres of land.
The outline plan for phase two – on land directly opposite the main park – will include land zoned for class 4, 5 and 6 uses.
Image – Serviced apartments are the latest facilities earmarked for the busy site.