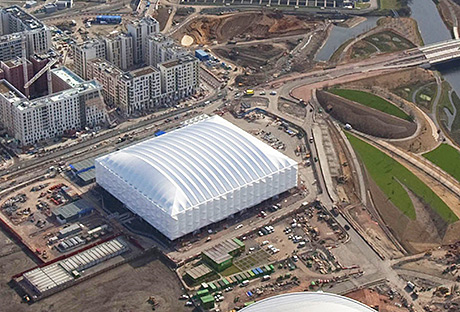 THE biggest single temporary structure in Olympic history has been put on the market by the Scottish company that created it.
The Basketball Arena, one of the landmarks of the 2012 Olympic and Paralympic Games, has been given a £2.5m price tag by owner Barr Construction.
The Arena, which is being dismantled from its site at the Olympic Park in Stratford, was the largest single temporary structure ever created in Olympic history and was the third largest of all the venues at the London Games.
At 114 metres long, 96 metres wide and 35 metres high, the arena occupies a footprint of 11,000 sq. metres and the main steelwork trusses span almost 100 metres.
The building shell being made available for sale consists of a 1,000 tonne skeletal steel frame and a 23,000 sq. metre recyclable white PVC fabric skin.
Work to dismantle the arena has already started and the dismantling of the rippled outer envelope will begin in March.
Under the terms of the contract negotiated with the Olympic Delivery Authority, Barr Construction retained ownership of the shell. It has now appointed a property consultancy and an accountants firm to handle the sale. Prospective bidders are invited to submit expressions of interest by March 31 and a shortlist will be invited to submit formal bids by April 30.
Barclay Chalmers, managing director of Barr Construction, said: "The Basketball Arena was one of the showpiece structures of the Games but it was clear there would be no legacy use for a permanent basketball venue, hence the decision to create this temporary building.
"We see this facility being suitable for a range of different uses. Sport is obvious – it is big enough to house between 15 and 20 tennis courts, for example. It could also be reconfigured to become a conference, exhibition and events venue similar to the O2 in London, or even a film and TV studio.
"Despite the temporary nature of its design, we believe it can easily be reconstructed to offer excellent service for many, many years to come."
Depending on the future use of the shell, Barr can provide storage, transportation and reconstruction services to the winning bidder.
Paddy Brennan of property firm BTW Shiells commented: "The arena has global appeal and it will be very interesting to see where this iconic structure ends up and what it will be used for.
"The interest to date has been incredible and we anticipate its transportability and the fact it can be utilised for a variety of functions being key selling points."
The 12,000 seats in the arena during the Games are also up for sale under a separate deal by temporary seating provider GL events Slick Seating.
Image – The arena in place during the Olympics.