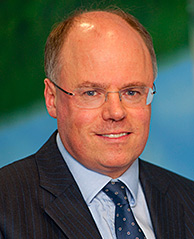 DOUGLAS Millican has been appointed chief executive of Scottish Water with immediate effect.
The finance and regulation director since the formation of the business in 2002, he has held the chief executive post on an interim basis since the sudden death of Richard Ackroyd in October last year.
His appointment was a unanimous decision by the board and chairman Ronnie Mercer said: "Douglas is the outstanding candidate for the job of chief executive.
"He has been integral to the success of Scottish Water in its first 10 years and supported our former chief executive through Scottish Water's most successful period of development."
Millican was formerly with East of Scotland Water, initially as financial controller and latterly as commercial director. Before then, he worked with Price Waterhouse in Edinburgh and New Zealand and with Tyco International in Australia.
He was Scottish Finance Director of the Year in 2010.
His salary has been agreed by the board of Scottish Water and approved by Ministers and his appointment came after a "comprehensive succession planning review".