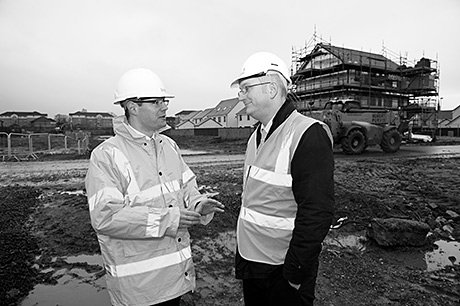 A house builder which spends three times as much gaining consents as it does buying blocks has backed moves to streamline the planning process.
Springfield Properties, which claims to have Scotland's busiest new build housing site, at Braehead near Glasgow, played host to planning minister Derek Mackay as he underlined the Government's determination to reform the system.
He was touring the development to learn more about NHBC, the new homes warranty provider and praised Springfield for its efforts to regenerate the area. "I'm encouraged that Springfield Properties have a 'can do' attitude when it comes to building new homes that are energy efficient and will contribute to our climate change agenda.
"The Scottish Government is committed to reforming our planning system as part of our efforts to build sustainable economic growth. Everyone involved has a part to play in a quicker, more responsive planning system. Early, meaningful engagement and sound project management are key to efficiency and I am absolutely committed to delivering improved planning performance."
Springfield chairman Sandy Adam is confident the system will change for the better. "We believe the minister's proposals for a more efficient planning system will have a positive impact on economic growth and we are keen to see them take effect.
"We particularly support the changes which will make the system less focused on process and more focused on good, well-timed outcomes which are essential for economic recovery.
"It currently takes on average 22 months for us to deliver a home – 18 months in planning and four months to build. Springfield currently spend up to three times as much on getting planning consents as we do on buying blocks to build our houses."
"Both the public and private sectors have a responsibility to make these changes work so that projects can be undertaken more quickly. In turn creating the investment in jobs and homes which will make Scotland an even more attractive place to live and work."
Managing director Innes Smith added: "In order to deliver timely outcomes for major planning applications, we already initiate discussions with senior officials, planners and all consultees early in the process. Things are definitely changing, with planners becoming much more open to this kind of communication and we welcome the Government's commitment to developing a streamlined approach."
Image – Springfield's Innes Smith (right) listens as the minister outlines the proposals to speed up the planning process.