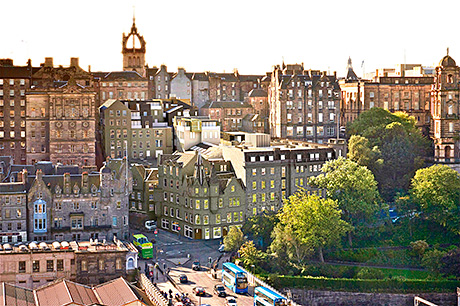 THE first stage of a £45m redevelopment project in Edinburgh has been marked with the handover of a 208-room hotel to a German group.
The hotel, which is the UK's first Motel One, links five separate buildings as part of the Advocate's Close redevelopment project by Chris Stewart Group (CSG). The site also includes 29 serviced apartments, three restaurant spaces and office accommodation. All are on schedule for completion in the spring ahead of the Edinburgh festival season.
The redevelopment will open up some of the Old Town's hidden lanes and unusually, the entire redevelopment has been undertaken without disruption by large cranes or heavy plant.
Chris Stewart, the developer's CEO, said: "It is immensely satisfying to hand over the hotel complex on time and on budget. It has been an intense four-year project, balancing architectural heritage with modern requirements for comfort and convenience to create a landmark hotel for Edinburgh's Old Town."
Contractors have been working on a site of great historic significance and the work includes preserving or recreating historical architectural features and reinstating the original 'massing' or shaping of buildings in a contemporary context.
The site includes one of Edinburgh's oldest town houses and has revealed buried interconnecting passageways linking Advocate's Close to Roxburgh Close. Local stonemasons have built the first crow-step gable for more than 100 years and the serviced apartments retain many original features such as exposed brick work, gabled ceilings and 15th century hand-painted wall panels.
Stewart added: "Advocate's Close is a labour of love with every detail meticulously planned and executed. We have designed-in open spaces and a new 'square' as well as ways to create vistas from the top of the close out and over Princes Street Gardens beyond."
The developer has invited restaurateurs to visit the site and said it expects to make an announcement on the first letting "very soon".
Main contractor is Interserve and the architect Morgan McDonnell.
Image – After completing the Advocate's Close property, Motel One is looking to a second opening, on Princes Street.