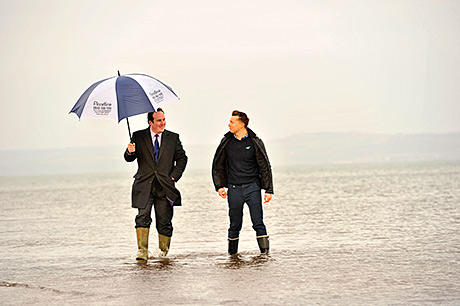 THE Scottish Environment Protection Agency has stepped up its fight to protect the 125,000 properties at risk from flooding by launching the country's first targeted coastal warning service for the firths of Forth and Tay.
Twenty-eight new flood warning areas have been set up along estuaries on the east coast from Eyemouth to Arbroath. Coastal flooding has affected many communities along the east coast in recent years, particularly Kirkcaldy, Musselburgh and Arbroath.
A campaign has been launched by meteorologist and TV weatherman Sean Batty to encourage people in the 28 areas to sign up to receive advance warnings from.
Environment minister Paul Wheelhouse MSP said: "In recent weeks we have seen just how damaging coastal flooding can be to our local communities. It is important that we do everything in our power to protect, help and prepare people who are living or working in areas at risk from flooding.
Image – WALKING ON THE BEACHES: Wheelhouse and Batty give it some welly.