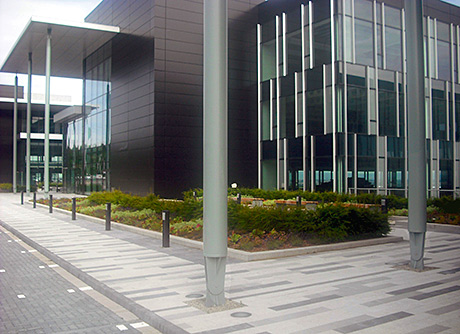 Alumasc's ZinCo green roof system and Hydrotech structural waterproofing were key elements in the EcoCampus at Hamilton International Park, a uniquely sustainable business community located south east of Glasgow.
Built by Balfour Beatty, the EcoCampus is designed to provide a sustainable foundation delivering high performance buildings with EPC & BREEAM 'Carbon Neutral' & 'Excellent' Status. The EcoCampus accommodates businesses within three Grade A carbon neutral buildings totalling 223,800 square feet. The ZinCo intensive green roof system specified on the scheme features planter zones, small plants, shrubs and bushes and was an important part of the development's environmental focus.
Briggs Amasco installed the green roof over approximately 7,500m2 of Alumasc's Hydrotech MM6125 structural waterproofing.
0808 100 2008