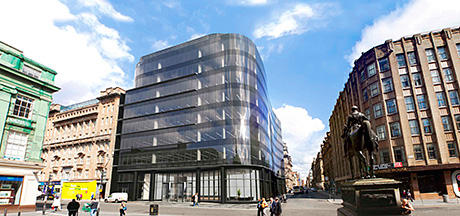 BAM Construct brought in the new year by starting work on its multi-million pound office and retail development on a prime site in Glasgow city centre.
A £50m funding package will see the empty building – a former bank – in Queen Street transformed into 143,000 sq. ft. of offices and 20,000 sq. ft. of retail space. The project is expected to support 250 construction jobs and 30 apprenticeships.
The scheme, which is being developed and built by BAM, has won a £9.6m loan from a regeneration cash pot established with Scottish Government and European Regional Development Fund money.
This type of funding aid has been welcomed by the industry and a top construction lawyer has described it as a key element in stimulating investment by private developers. Frazer Wardhaugh of HBJ Gateley said: "This is a significant project for Glasgow and at a time when development funding remains in very short supply, an additional leg-up for willing but wary developers is extremely welcome. Funding aid of this nature is key to encourage confidence and inject some much-needed activity into the market. It's good to see there are developers which are prepared to finance major projects and also that money from European funds is making its way to important new office and retail space. This demonstrates that with the right incentives there is still an appetite for speculative development in Scotland's cities."
A start at Queen Street comes after research published by property firm Ryden outlined a demand in Glasgow for new office space to enable it to compete with other major cities.
John Burke, executive director at BAM Construct UK, said: "This is terrific news for Glasgow and the wider construction sector and is testament to the confidence investors have that BAM can deliver the largest office development to be built outside of London in a number of years."
BAM is investing more than £40m in the project which is expected to generate spin-off economic activity for construction.