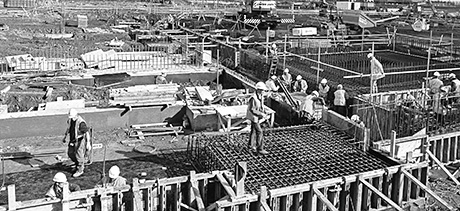 Industry will continue to struggle as England picks up the pace
THE construction industry in Scotland will be left behind this year as the rest of the UK industry starts to turn the corner, a workload study has predicted.
While the latest RICS survey expects output to increase – albeit slowly – in the rest of the country, professionals in Scotland expect activity to go into reverse.
Last quarter, 15% more surveyors said they looked forward to growing workload in the coming 12 months on the back of "a horrendous year" for the sector. However, Scotland saw activity continue to drop by a significant margin.
The UK upturn is reflected in the small increase in reported workloads in the final three months of 2012 during which a net balance of 6% more respondents indicated that activity had increased. The biggest gains came from infrastructure and private commercial development.
Nearly 90% of surveyors believe financial constraints are holding the industry back, around two thirds of that percentage citing insufficient demand. More than half also claimed weather conditions have hampered recovery. Rising input costs are another factor.
Simon Rubinsohn, chief economist at the RICS, said: "After a truly dreadful year, if one believes the official data, there are signs that 2013 will bring some better news for the construction sector. Most notably, the numerous measures that the government has introduced with a focus on infrastructure appear to be bearing some fruit."
It's a more depressing picture north of the border. Last quarter, 24% more surveyors reported that they expect workloads to fall over the coming 12 months. The slump is reflected in the continued decline of reported workloads in the final quarter of 2012. The most substantial fall was seen in public sector non-housing projects with 26% more surveyors reporting falls rather than rises.
David Taylor of CBA QS in Glasgow said: "There is some sign of greater activity but there is still a general lack of confidence in all sectors. Funding continues to be an issue, with bank funding almost disappearing."
Elsewhere, input costs continue to climb with 35% more respondents reporting rises rather than falls. At the same time there has been a sustained decrease in output prices.
Sarah Speirs, director of RICS Scotland, added: "After a disappointing few months the sector is still struggling with the continued decline of reported workloads. Critically, competitive pressures in the sector remain intense which is continuing to erode profit margins.
"For the time being, financing constraints are still an issue, however, the Scottish Government announcement in Autumn of an additional £394m being made available for capital building and infrastructure projects in Scotland should aid growth in the sector."
– – – – – – –
The performance of UK construction declined significantly in 2012 compared to the previous year.
Latest output statistics from the Office for National Statistics for November 2012 show big declines in output across all main industry sectors including a 16% fall in output from the private commercial sector during the three months to November and a 20% decline in public sector housing output.
Other public sector work has also fallen significantly, down 17% between September and November last year.