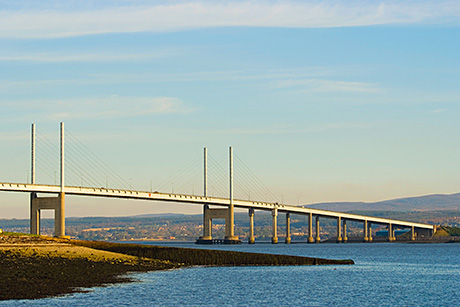 A surfacing material that been used only once before on a large-scale UK project is to be installed at a bridge in the Highlands.
Balfour Beatty will go on site next month after winning the £13.2m contract to carry out extensive resurfacing and upgrading works on the 30-year-old Kessock Bridge.
Murray Easton, the contractor's managing director in Scotland, said: "We have extensive experience of working on complex bridge projects in demanding situations, for example on the M74 Completion project and the Forth Road Bridge. We will draw on all that experience to carry out the contract with as little disruption as possible." (see below)
The structure carries two lanes of traffic in each direction with a footway/cycleway on each side. The contract includes installation of traffic management and refurbishment measures, waterproofing, replacing deck expansion joints and retensioning the suspension cables. Balfour Beatty will also replace lighting columns and safety barriers and modify the deck edge parapet.
The surfacing material to be used is a highly flexible specialist system particularly suited to steel suspension bridges. Its only previous use on a major UK structure was at the M5 Avonmouth Bridge which was managed by a Balfour Beatty/Mott MacDonald JV for the Highways Agency.
The Inverness structure is immediately adjacent to two European Protected Sites: the Moray Firth Special Area of Conservation and the Inner Moray Firth Special Protected Area. The Moray Firth is home to bottlenose dolphins, designated bird species, sub-tidal sandbank habitats and Atlantic salmon.
To avoid disruption to traffic during the tourist season the works will be carried out in two phases: from February to June this year and February to June 2014.
The 13-span, 1,052-metre long cable stayed bridge crosses the Beauly Firth between North Kessock and Inverness. There are 12 piers and the main span is 240 metres long, rising 29 metres above the water.
– – – – – –
Scotland TranServ, the Balfour Beatty/Mouchell joint venture, issued public apologies and pledged to learn from its mistakes after drivers in the Highlands were gridlocked for hours following a lane closure.
The unannounced closure of a single lane of a section of the A9 due to problems with "advance mitigation works" brought chaos and a four-mile tailback with vehicles stuck on the approaches to the Kessock Bridge (pictured) for two hours in the morning. The snarl-up was compounded by a number of breakdowns and emergency vehicles were also caught up in the logjam.
The closure was made in advance of the company's contract to resurface and upgrade the bridge.