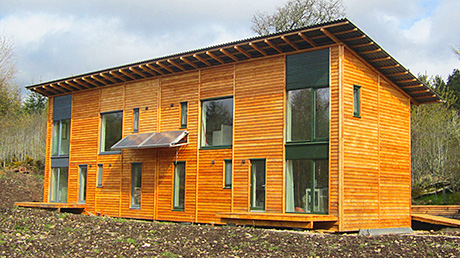 MODIFIED wood products have been used as a "sustainable alternative" to concrete in the construction of a Highland home.
Dunsmore House has a two-storey platform frame supported on eight shallow pad foundations. The design called for laminated timber beams to span the pad foundations and serve as a base for the platform build. The nature of the installation required the laminated beams to perform in an area of significant dimensional instability and durability challenges, caused by moisture.
Edinburgh Napier University's centre for offsite construction and innovative structures worked with Neil Sutherland Architects to evaluate timber material options and settled on Accoya wood on the basis of its proven durability and decay resistance in similar applications.
Manufactured by Accsys Technologies, Accoya is said to be one of the most advanced modified wood products on the market "using the latest in wood acetylation technology to deliver outstanding levels of performance, stability and durability".
Neil Sutherland of the architects added: "Until now, using wood in damp external conditions for structural applications has been a real challenge, chiefly because of the risk of fungal attack and dimensional instability which affects the critical air-tightness of the building envelope.
"The most effective preservatives are by definition toxic and so have environmental issues both in use and disposal. While there are a few species of wood with good natural resistance to fungal attack, they are often difficult to glue and offer very limited benefit with respect to dimensional stability. Additionally, such species are often of tropical origin and sustainably sourced supplies are becoming increasingly limited.
"With Accoya, all of these issues are addressed and resolved. Accoya wood is guaranteed against fungal decay for at least 50 years above ground and 25 years in ground."
The product is claimed by the manufacturer to provide the high-quality and aesthetic attributes of tropical hardwoods and uses wood from FSC certified and sustainable forests.
A spokesman for Accyss went on: "For highly reduced levels of both embodied energy (equivalent to a few years of operating energy) and carbon (energy required to form the product) it is advantageous to use a timber offsite closed panel system that is externally timber clad with a durable species, as is the case with Dunsmore House.
"However, research has shown that if a traditional concrete slab foundation is used it will account for over 40% of the embodied carbon of the dwelling. The design strategy of this project reduces the use of cement substantially through the use of a lower embodied carbon alternative in the form of Accoya GluLam ground beams. As well as reducing both embodied energy and carbon compared to traditional concrete foundations, this approach also led to savings in cost and construction time for Dunsmore House."
The project proved such a success it is showcased in Accoya's Structural Design Guide, co-produced by ARUP and Timbersolve, which provides structural design data based on extensive testing undertaken at Napier, SHR Timber Research Netherlands, Göttingen University in Germany and the University of Brighton. The wood was supplied by International Timber of Grangemouth.
Image – The material is claimed to be one of the most advanced modified wood products available.