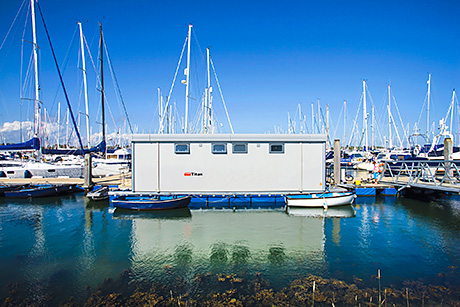 A new range of modular buildings could reduce companies' energy use by 60% according to the manufacturer.
Portakabin says its Energy-Saver range will allow occupiers and specifiers to meet more stringent environmental and carbon reduction targets.
The new Solus and Titan Energy-Saver buildings, which were developed in association with environmental consultant Energy Building Ltd, have been independently assessed and can achieve an Energy Performance Certificate 'A' rating, putting them among the best-performing sustainable buildings available in the UK. They use up to 63% less energy than the standard buildings.
Available to buy for permanent applications and to hire for temporary accommodation, the buildings incorporate energy-saving technology such as air source heat pumps and high frequency lighting controlled by motion detection sensors and dimmer controls that are linked to daylight so that lights are used only when needed.
Kevin Jones, director and general manager of Portakabin Sales, said: "Reducing energy consumption and carbon emissions and ensuring compliance with increasingly stringent environmental legislation have to be key priorities for every organisation in the UK."
Image – The buildings will cut energy costs considerably claims Portakabin.