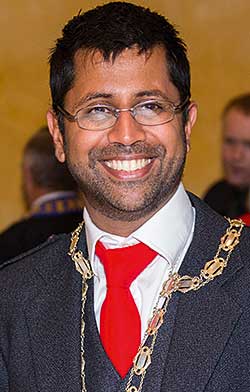 THE re-elected president of the Federation of Master Builders Scotland has pledged to continue the fight against retentions.
In his first engagement after being re-elected at the agm in Glasgow, Najem Al Hasan represented the FMB at the Cross-Party Group on Construction and told an audience including MSPs Nigel Don and Margaret McCulloch that retentions are killing the construction industry. "Very few SMEs have the resources to chase all monies due to them and litigation is frequently too expensive.
"Many sub-contractors go out of business with thousands of pounds owed to them by principal contractors."
He said the FMB supports the use of project bank accounts in public construction contracts, ring-fenced accounts from which payments are made by a client to members of the supply chain.
"They have trust status, which in the case of insolvency, monies in the account due for payment to the supply chain are secure and can only be paid to them."
Al Hasan is director of Scotia Construction Ltd of Livingston.