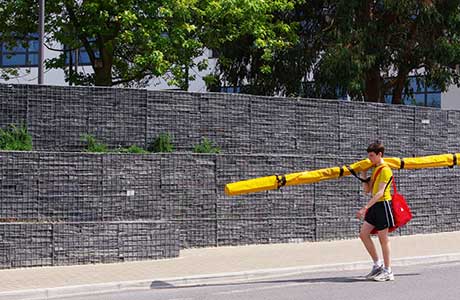 David Crowther considers how the strength and simplicity of gabions have helped them become a familiar sight throughout the country.
FOR over a hundred years, gabions have been a feature of the UK's industrial landscape. These simple, stone-filled wire baskets have been used by civil engineers and contractors to stabilise vulnerable embankments, build retaining structures, line fast-flowing watercourses and prevent coastal erosion. They are a familiar sight on our roads network where their simplicity, durability and speed of construction have made them the default material where carriageway widening is required or embankments need to be cut back to accommodate additional traffic lanes, overhead gantries and so on.
Their physical mass and open, free-draining composition gives them enormous structural strength and resistance to hydrostatic [water] pressures. From an aesthetic perspective, their use of usually, locally-sourced fill material – typically off-cuts of quarried stone or slate – make gabions a natural choice in areas of environmental sensitivity.
They originated in Italy and were invented by the parent company of Perth-based Maccaferri. In colloquial Italian, Maccaferri literally translates as 'worker of iron' and directly relates the company to its wire-working heritage. Maccaferri has held the original patent since the 1890s and is the world's biggest producer.
Today's Maccaferri gabion is a rectangular wire mesh box, nominally 2.0m x 1.0m x 1.0m, made from double-twisted hexagonal mesh of steel wire, a simple design which has stood the test of time and which has changed relatively little over the years. They are also BBA Roads and Bridges Certified with a recommended design life of at least 120 years.
These mesh boxes are delivered to site flat-packed, where they are assembled and filled with stone. Their modular nature means that they can be used in a wide range of applications and configurations and the woven units can also be easily altered on site and shaped to suit project requirements. For architectural applications such as cladding and free standing structures, a more rigid, heavy-gauge, welded wire mesh is typically specified.
Despite more than 100 years of familiarity with the gabion, it is encouraging to see that new and highly original uses are still being found for this simple, functional, ecologically sound and visually appealing product.
At Brunel University in West London, a bold, hard landscape scheme for the Eastern Gateway building incorporates gabion walls around a seating and short-term car parking area. The sweeping terrace of gabion units, filled with blue Welsh Slate, creates a stunning transition from the upper, parking/seating area, to one of the university's access roads some two metres below.
A very high level of detail finish was achieved with carefully mitred corners and tight radii, which show off the subtle graining of the slate infill to good effect. A face area of over 400 sq. metres was specified by designers Architeknik and built by Maccaferri Construction, Macaferri's specialist installation subsidiary.
At the St Anne's Well Community Centre redevelopment in Nottingham, broad columns of thin-walled gabions were used as architectural cladding to piled retaining walls which surround the car park and support the vehicular access ramps. The stone infill to the gabions provides striking contrast in texture and colour to the painted/rendered facing walls and creates a natural backdrop for climbing plants and foliage.
Thin walled gabions also form facing walls to a sustainable urban drainage facility at Clifton Campus of Nottingham University. Here, rainwater run-off from roofs of student accommodation buildings is collected for controlled return to natural water courses. The natural stone filled gabion baskets form a perimeter wall above planted banking and contrast beautifully with the composite brickwork, timber and rendered facades to the adjacent buildings.
In Scotland, gabion walls up to nine metres high allowed contractors Black & Veatch to hide Scottish Water's new, Glencorse Water Treatment Works in the landscape of the Pentland Hills south of Edinburgh. Here, the gabions, in-filled with local red basalt, were used to form massive retaining walls which, when backed up will thousands of cubic metres of reclaimed soil, effectively hide the 10-hectare plant from view.
By completely burying one huge building and designing another as a low aspect structure, incorporating the largest grassed roof of any building in Scotland, the Glencorse plant is one of the best hidden and most sustainable construction projects in the country.
At the Glencorse site, the gabions fulfil their traditional, civil engineering function by forming a network of mass gravity and reinforced soil structures. The largest of the five walls is nine metres high and defines the access roads and turning areas for articulated tankers and chemical delivery vehicles. The near-vertical structure sweeps north around the vehicular turning head before following the north east wall of the main water treatment building.
Whether it is for decorative effect or structural strength and long term durability, the future for gabions as a building material seems assured. The combination of engineering capability and aesthetic appeal gives them a head start against many other building materials.
It could be argued that the only limiting factor that may affect their on-going success is the creativity of the design and construction community, which has used it to such good effect over the last century. A point that no-one should worry too much about, over the next 100 years.
David Crowther is Technical Manager for geotechnical specialist Maccaferri.