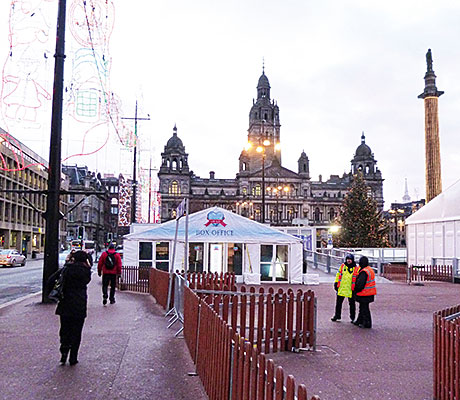 A GROUP of six international companies are in contention to win a prestigious design competition to redevelop Glasgow's George Square.
Glasgow City Council has whittled 35 submissions, from as far afield as Australia, the USA and Sweden, down to a short list of six whose designs will go on display in the Lighthouse, the Centre for Design and Architecture, in early January.
The six competing for the £15m project are Agence Ter, from France, James Corner Field Operations from the USA, and a quartet of UK submissions from Burns + Nice, Gustafson Porter, jmarchitects and John McAslan & Partners.
Council leader Gordon Matheson said: "The calibre of the companies competing to redevelop George Square clearly outlines just how iconic it is around the world.
"Each bidder has a wealth of international experience and all six have delivered a number of eye-catching civic spaces acclaimed by their peers and public alike."
Given the scale of the proposed transformation, statues and monuments – except the Cenotaph – will be removed, at least on a temporary basis, in order that the design and construction can be carried out.
This will also allow a comprehensive conservation plan of statues to be implemented in partnership with Historic Scotland. It is anticipated redevelopment work will be carried out in two stages, with the first stage being completed before the Glasgow 2014 Commonwealth Games.
Funding of up to £5m from the over-all investment programme will enable early completion of phase one of the redevelopment with an additional £10m assumed within the Buchanan Quarter TIF business case.
• Agence Ter – design team comprising Hengehan Peng architects, civil, structural and service engineer Buro Happold, cost consultant Gardner & Theobold, lighting consultant Bartenbach LichtLabor and architect Atmos
• Burns+Nice – landscape architect and urban designer working with Halcrow, Rybka Services and Infrastructure, ARUP Lighting and Gardner & Theobold
• Gustafson Porter – public realm expert which has designed and delivered projects on many scales, from memorial fountains to squares, gardens and parks in the UK and abroad
• James Corner Field Operations – New York firm of landscape architects will lead a team which includes local architect Gillespies, Make Architects, Buro Happold and Speirs & Major
• JM Architects – a practice with offices in Glasgow, leading a multi-discipline team which includes Edinburgh firm Graeme Massie Architects

• John McAslan and Partners – a practice with experience in multi-discipline schemes such as the Grade I listed King's Cross Station which included significant public realm and infrastructure.