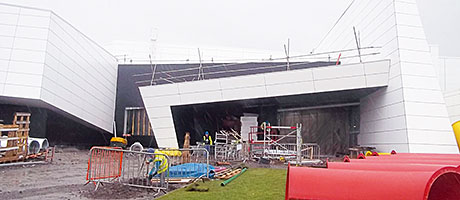 A sports complex being built by BAM Construction has received one of the highest scores for a 'live' site from a scheme that recognises high standards in the industry.
The accolade was awarded by the Considerate Constructors Scheme to the £19.6m Linwood Community Sports Hub. Assessors said: "The site continues to be a good example of a professionally-run site, demonstrating a level of professionalism which is beneficial for the industry."
Douglas Keillor from BAM said: "The impact a live construction site can have on a local community is significant and it's important that we respect that and adhere to a code of practice to ensure responsibility and accountability at all times. Thanks to a team effort we have a good reputation within the scheme however, to score such high rankings is rarely achieved so we're delighted for our hard working team on site and the local community alike."
Under the scheme sites are inspected by independent industry professionals. The Linwood project achieved a score of 92.5%, ranking it amongst the top 3% of the 10,000 UK sites inspected each year. It was awarded the highest mark possible in the environment and responsibility categories.