'Development will not spoil historic buildings'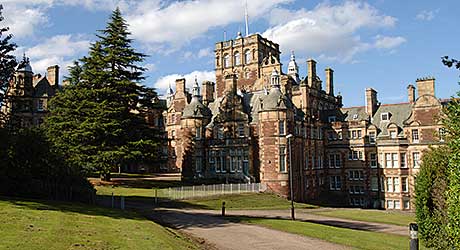 THE developer behind plans to transform a university campus into a housing estate has promised to ensure a sustainable future for the historic site.
The grounds of Edinburgh Napier University contain seven A-listed buildings but The Craighouse Partnership is convinced its proposals will preserve the integrity of the old buildings after the last students leave the campus in May to take up residence at a new facility in the Sighthill area.
The company, which comprises Sundial Properties, Mountgrange Real Estate Opportunity Fund and Edinburgh Napier University, has submitted a revised planning application for the 51-acre Craighouse Campus. The project, designed by Edinburgh architect Oberlanders and conservation oractice Simpson & Brown, could see a total of 153 homes, reduced from the 200 originally proposed.
The revised submission comprises 64 conversions and 89 new-build properties and the developer has also moved to reassure residents who expressed concerns about the potential loss of access to the site, regularly used by locals for recreation.
"We have had two rounds of formal consultation events, in September 2011 and March this year, where the public has seen our plans and given us their detailed comments," explained William Gray Muir, managing director of Sundial.
"In addition to this we have put in place a thorough programme of community engagement with the establishment of an independently chaired liaison forum and numerous meetings with community councils and other interested groups.
"The most consistent concerns which were expressed to us were over our original proposal to build on the orchard area and over how legally robust the guarantees of continued public access over private ground could be. Our final proposals very positively address these issues, by removing all new building from the orchard area and seeking to gift the majority of the green space into public ownership to protect public access in perpetuity."
As well as the developer's promise to maintain public access to the grounds, the local authority is consulting residents on a proposal to transfer a significant portion of land to community ownership, a move supported by the developer.
The proposals seek to minimise loss of green space with only 3.5% of the site being built on, the majority of which is on car parks, tarmac or previously consented land.
As part of the scheme, it is proposed to hand over the majority of green space into public ownership to guarantee public access. A major planting scheme will increase the number of trees on site by more than 250.
The original building on site, Old Craig, is being restored to a single home in its private walled garden. Modern alterations will be removed and many of the original rooms reinstated. A replacement render colour, based on historical investigation, will be used in place of the 1990s pink.
Designs for the new buildings include "high quality" materials inspired by the historic buildings. Sandstone and lime render will be used together with slate, zinc and lead for roofs. The aim is to blend modern design with traditional Scottish details and finishes where appropriate.
Muir added: "The changes brought about as a result of our engagement with the public are reflected in the planning application now submitted to City of Edinburgh Council for their consideration.
"We have listened to local people and made substantial changes as a result."