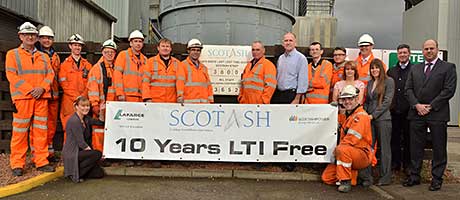 FIFE cements and grout producer ScotAsh is celebrating a major safety milestone.
The firm, based at Longannet Power Station, has enjoyed 10 years without a lost time injury (LTI), which translates to 3,652 working days without an accident to its staff or contractors. An LTI is defined as a work-related injury causing absence from one or more scheduled workdays or shifts, counting from the day after the injury occurs to the day before an employee returns to work.
The company's safety performance has been recognised by the Royal Society for the Prevention of Accidents which recently presented ScotAsh with its sixth consecutive award.
Production manager Jim Donnelly said the company's big achievement was "no accident" but down to every member of the team being fully engaged in safety and looking out for each other.
"Our Time Out for Safety sessions have included carrying out a working at height rescue and a workshop on vehicle safety prior to winter setting in. We also issued staff with a winter safety pack, which included de-icer, a tyre pressure gauge and an ice scraper to extend our safety culture beyond the workplace."
Director Allan Everett described the statistic as a "magnificent achievement".