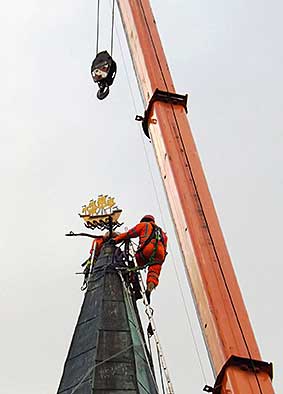 A COMPANY specialising in conservation is hitting the heights just three months after opening a new office in Scotland.
Since establishing a permanent presence in Edinburgh, Stone Technical Services has recruited 10 people and plans to employ five more over the next year.
The Edinburgh office adds to the company's UK-wide network which includes headquarters in Darlington and sites in Cheshire, central London and Middlesex.
Managing director Dave Stone, who established the business in 1998 with his brother Grahame, says the Scottish operation has seen a "huge leap in demand" backed up by significant contracts from the public sector.
Stone has secured around £100,000 worth of work and signed a three-year contract with Renfrewshire Council to carry out the annual testing of its lightning protection. The firm is also carrying out a complete refurbishment and re-fit of the weather vane at Stumpy Tower in Girvan, South Ayrshire, which was originally built as a prison in 1827 and is now a B-listed building.
Other contracts with South Ayrshire Council include a variety of conservation, restoration and general maintenance on historic buildings, schools and public amenities.
"Launching in Edinburgh has led to a host of new opportunities for us as a UK-wide business," said Stone.
"Edinburgh and the surrounding areas have such a vast cultural heritage, one of our areas of expertise, and we're looking forward to working with a range of businesses and organisations as we, hopefully, continue to grow throughout Scotland.
"There's also a lot of interest in our facilities management capabilities as we don't just carry out general maintenance programmes, but also those that involve sensitive or high level repairs or specialist access. And it is this variety of expertise that is helping with our development."
Throughout 2012 Stone secured a number of significant contracts working all over the UK on buildings such as North Tees Hospital in Stockton, St Paul's Cathedral in London, Merrion House in Leeds, Lindisfarne Castle, Hexham Abbey and Lumley Castle.
It performs a range of maintenance, safety and conservation projects for a client base including housing associations, English Heritage, the National Trust and Network Rail.